The ALIFE study group is currently conducting studies in the field of, among others:
- POCUS in patients with COVID-19
- Assessment of central line associated thrombosis
- POCUS in weaning
- Artificial Intelligence and POCUS
- Lung ultrasound guided deresuscitation (CONFIDENCE-trial)
---

CONFIDENCE trial 


General
Intensive care (ICU) patients usually receive invasive ventilation and are given plenty of fluids. Pulmonary edema can occur due to (an excess of) fluid administered. Failure to recognize and treat pulmonary edema in time extends the ventilation time and thus the hospital stay.
Lung ultrasound is an accurate, simple, safe, radiation-free, imaging technique that that has a high accuracy for pulmonary fluid overload. Due to the minimal burden on the patient, lung ultrasound can be used to monitor the patient.
In this study, we want to investigate if physician are better able to identify and treat pulmonary edema in invasively ventilated ICU patients using lung ultrasound. The objective is to shorten ventilation duration time and length of stay in the ICU.
CONFIDENCE trial
The CONFIDENCE trial is a national multicenter randomized controlled trial (RCT), conducted in ICU patients with an expected ventilation time of more than 24 hours. The aim of the study is to evaluate effects of lung ultrasound guided deresuscitation on ventilation duration and survival. Patients are randomized within the intervention group or the control group. Patients randomized in the intervention group will be deresuscitation based on lung ultrasound observations (twice daily).
The CONFIDENCE trial will include 1000 patients in 10 different hospitals in the Netherlands.
Intervention group
After hemodynamic stabilization of the patient, lung ultrasound will be made twice a day. Based on lung ultrasound findings, a patient can fall within one of the three following scenarios. For each group, a fluid balance is aimed for the next ±12 hours (until the next ultrasound is performed).

Lung ultrasound is performed in 12 regions to image the entire lung. Each chest wall is divided into six regions: caudal and cranial to the anterior, lateral and posterior chest wall: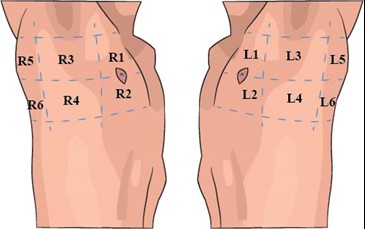 Control group
In the control group, deresuscitation is based on standard treatment, i.e. using clinical features of the patient, imaging such as an X-ray or CT scan or invasive methods such as a PICCO. Lung ultrasound should not be used in this group to monitor fluid balance. The lung ultrasound may be used for diagnostic purposes.
Study team
Amsterdam UMC, location AMC
Prof. dr. dr. M.J. Schultz
dr. F. Paulus
drs. M.G. Brouwer
Amsterdam UMC, location VUmc
Prof. dr. L.M.A. heunks
dr. P.R. Tuinman
drs. A. Mousa
Contact
Chief-editors
Pieter Roel Tuinman, MD, PhD, intensivist-epidemiologist
David van Westerloo, MD, PhD, intensivist
Editors:
Carlos Elzo Kraemer, MD, intensivist
Jorge Lopez Matta, MD, intensivist
Paul Wijnandts, MD, intensivist
Jasper Smit, MD, PhD student
Mark Haaksma, MD, PhD student
Micah Heldeweg, MD, PhD student
Annemijn Jonkman, technical physician, PhD student
Heder de Vries, MD, PhD student
Contact
Department of Intensive Care Medicine
Amsterdam University Medical Centres, Vrije Universiteit Amsterdam
Room ZH - 7D-166
De Boelelaan 1117
1081 HV Amsterdam, The Netherlands
prtuinman@hotmail.com
Department of Intensive Care Medicine 
Leiden University Medical Center (LUMC)